It's late. You've got a movie on. Or Pandora. And you're frantically happily wrapping gifts and stashing them away for Christmas.
And then you reach the end of the roll.
And if you're using cheapie wrapping paper like me, that means you're face to face with not a solid cardboard tube, but a 12"-18" roll of heavy paper that doubles as a tube.
Who cares, right?
Wrap the dang present and toss the faux-tube, right?
Wait! Don't toss that!
I've got SEVEN reasons to hang onto to that wrapping paper center.
And to make all of them easier, do yourself a favor and reroll that paper width-wise instead of length-wise—it's much easier to store.  While you're at it, roll several together to keep all of it in one, neat spot.
#1 – Get Your VonTrapp On
Neighbor gifts, presents or any of your "favorite things" look snazzy with minimal effort or cost.
#2 – Paper Crafts
The natural color and subtle texture are great for cards and art projects without the premium craft store price. 
#3 – Make stencils and patterns for craft projects
This paper's heavier than regular craft paper and holds it's shape better. Sewing patterns hold up better and stencils have less bleed through from paint or marker.
#4 – Wrap Shipping Boxes
This heavy weight holds up like a champ in the mail and post office types adore it.
#5 – Protect Your Work Spaces
Painting, coloring and gluing projects just got a whole lot neater. And unlike newspaper, there's not risk of paint soaking through.
#6 – Protect Breakables
Skip the flimsy paper towels and cut squares to layer in between holiday plates and serving platters. This paper is both pliable and thick enough to protect dishes from scratching and moving when stacked.
#7 – Line Pet Cages and Kennels
Thicker is always better here. Always.
So …
Left-over wrapping paper center?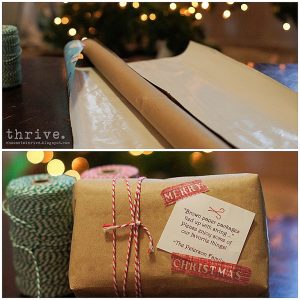 It's What-Not-To-Toss this holiday weekend!