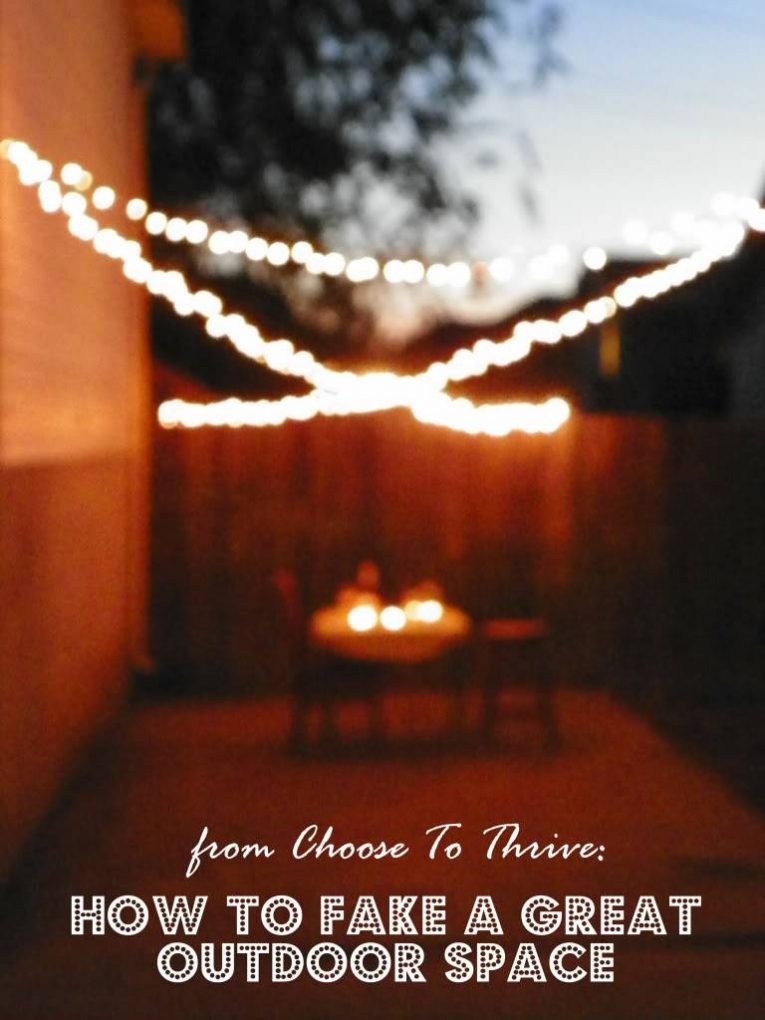 (Originally posted on The CSI Project)
My mission to live and craft without spending a dime carried over into my yard this week as me and my kids geared up for the holiday weekend. Because who wouldn't love to enjoy the 4th in an amazing outdoor space?
But as it turns out, I'm fresh out of amazing outdoor spaces.
The back yard is being reseeded, spending any money on decorating is a no-no right now and my front yard looks like this:
average 1970's split-level, average landscaping, average trees, average grass.
Yawn, right?
I thought so, too, until I started rummaging around the kitchen and junk drawer.
So in true rock what ya got style, I'm here to show you how I used items from around the house to FAKE two great outdoor spaces (and how you can, too!)
Space No. 1: Date Night In The Driveway
Here's a look at my boring suburban driveway.
But with a little imagination … and some rearranging …
… and some Christmas lights and twisty ties …
that driveway becomes something else entirely:
a driveway bistro get-away perfect for a stay-at-home date night dinner.
And as soon as dinner's done, the drive-in theatre comes to you with movie night on the fence. All it takes is a queen size white sheet, a borrowed projector and a $0.99 movie rental.
And you can bet that my driveway is going to look just like this again tonight as Mr. Thrive and I remember when we met 15 years ago at a 4th of July display … and how we went and saw Independence Day the next day for our first date … and shared popcorn and Hot Tamales … and how 1 house, 2 layoffs and 6 kids later we wouldn't change a thing.
Space  No. 2: Under The Tree
Here's another look at my front yard:
Again, nothing to write home about.
But with a little digging around the kitchen and craft room …
… I figured some make-shift floating lanterns could help that boring tree and spotty grass become something magic.
Lanterns can be made from anything: canning jars, empty peanut butter jars, whatever.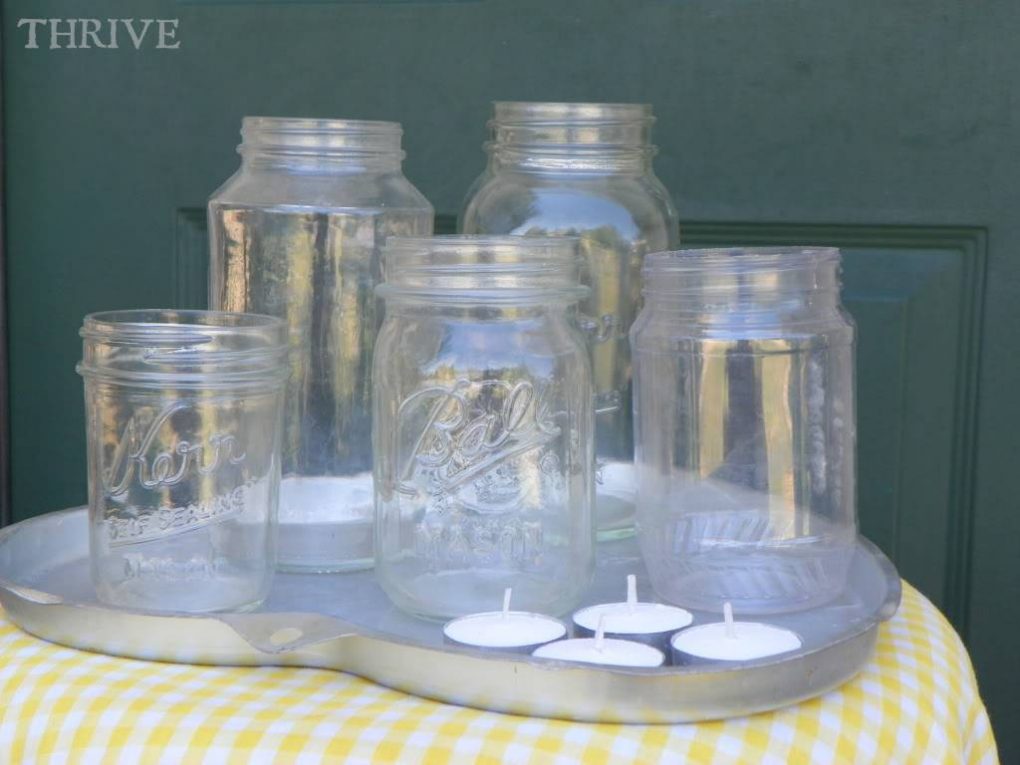 Lantern handles come together by wrapping wire around the lip of each jar a few times and then back over the top.
Tea lights (battery or open-flame) work best if they're set in a little bit of sand.
No sand on hand? Me neither. Salt works just fine and can even be tinted with a few drops of food coloring for the looked of colored sand.
You can leave the lanterns plain or dress them up with some beads, ribbon or garland.
Hanging is a snap using whatever you have on hand—yarn, twine, ribbon, shoe laces, whatever. Rock what ya got.
And as the sun starts to set, those lanterns get tied in place …
… and candles lit …
… and little bodies in jammies with story books find their way outside to lay under the stars …
… and curl up with their favorite blankets under a canopy of lights …
… telling ghost stories way, way past their bedtime.
And seeing my ho-hum front yard transformed with some jars and string, and hearing the laughter and excitement of my kiddos waft through the warm summer night reminded me of my favorite children's poem ever:
So go take another look at those outdoor spaces around your house or apartment and see what kind of magic you can make yourself.