While I was at D.I. trying to find red shoes for Ash's Dorothy costume, I found this and figured that it wouldn't be too hard to make it look like this:
The dress was hammered!
The cuffs and collar were frayed and coming apart.
The skirt had this tacky gold sparkly tulle top layer that was
shredded and tearing away from the waist line.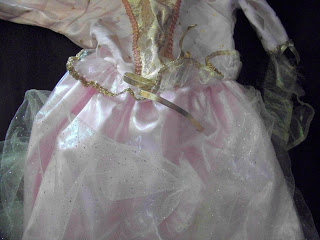 Princess dresses usually run $7-8 at our D.I., but this one didn't have a tag. I took it up to one of the cashiers and told him that I was interested in it, but that it was in horrible shape and would need lots of work. He sold it to me for a buck (wahoo!) which helped offset not finding shoes for Ash.
To make this work, I trimmed away most of the frayed edges on the collar and cuffs and hot glued them into place. I would have sewn them down, but the fraying was just too bad. And since this dress was for dress up instead of church, I didn't mind that it's wasn't washable. The gold tulle layer was so badly thrashed that I just cut it all off. Plus, it made the dress really GOLDY which I was trying to stay away from since Glenda's dress and crown were technically pink and silver.
To make the crown, I cut a crown shape out of poster board and attached some inexpensive pink satin fabric with double sided tape. Unfortunetly, the crown – while authentic and crazy tall like the movie version – made Sa'My look like a drum major. Scratch that. I grabbed the crown, cut a new shorter shape and added some gold trim to cover up the raw edge. Total cost for the fabric and trim: $1.50. The wings were a gift from G&G Peterson for Sa'My learning all of her letters, so FREE.
Voila ~ one cute Halloween costume for less than a bag of candy.